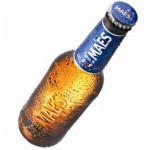 Woow… the last message on my blog dates from the end of February, while today it's August 3rd. Amazing how fast time flies.
And especially: amazing how many things can happen in one's life in the course of, roughly, 6 months.
When it comes to my love for Belgian beers, 2 major things happened: first of all I held a temporary job at the Alken-Maes breweries (Heineken Belgium). Between mid-April and today, I assisted as sales controller in several monthly recurring controlling tasks, SAP-Optimization tasks and the optimization of the use of other business tools such as Business Objects, Hyperion Essbase and BPC. Though I have created an allergy for the latter one when it comes to business tools, this temporary position at Belgium's second largest brewery was really a great experience. I've met a lot of interesting people and I learned quite some things about beers I didn't know.
If you're wondering which brands they are famous for, you must have heard already of Grimbergen or Affligem (and if not, have a search on Belgiandelicacies.com). Other beers are Maes, Cristal, Mort Subite, Ciney…
The other major thing is: I decided to put my Belgiandelicacies.com blog on a lower activity-level. The problem isn't about tasting and taking notes, but more like finding the time to convert my notes into a readable text and to have my website optimized. But don't be afraid: I won't stop the site and I won't stop posting reviews. Consider it as "being put in the fridge" for the moment. The reason: in the coming months I want to give myself 200% to the FloridaVakantieVillas.com project (RentAHolidayVillaInFlorida.com). I am convinced this latter project will succeed, but it will take a lot of work. To avoid distractions, I thought it was a better idea to put all other projects on hold for the moment.
Quite some other things happened as well. Keep an eye on my website to find them out in the coming updates!
Johan